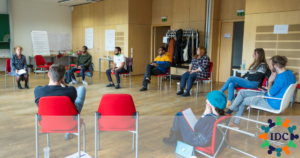 The Dialogue Programme at the International Student Week in Ilmenau (ISWI) 2021 seeks to enable an open and respectful dialogue aimed at learning from one another. The organisers hope to enhance mutual understanding and develop respect for varied perspectives between the participants on contentious topics and issues. We will be using the dialogue methodology developed and practised by the Nansen Center for Peace and Dialogue (NCPD).
The Dialogue Programme to be held in Ilmenau, Germany will be conducted in two parts, the first includes dialogue sessions from 22nd May to 27th May 2021 followed by participation in one of the groups of ISWI 2021 conference. The conference will be held from 28th May to 6th June 2021 in Ilmenau. Participants in the Dialogue Programme will thus have a stay of 16 days in Ilmenau, Germany.
The broad topic of the dialogue sessions is 'Climate Change' and dialogue will be held in two parallel dialogue groups.
ISWI 2021 provides a platform for youth from across the globe to discuss pressing issues of our time, to gather wide-ranging perspectives, and to work together towards a peaceful and sustainable future. It is organised by the Initiative Solidarische Welt Ilmenau e.V., a student-led NGO based on the campus of TU-Ilmenau. ISWI 2021 is based on the topic of 'Climate Change, Environmental Conservation, and Sustainability'. The participants of the Dialogue Programme are exempted from the ISWI 2021 application process.
The Dialogue Programme will be held using the English language.
stay updated: